RYOBI 20 in. 40-Volt Cordless Walk Behind Self-Propelled Lawn Mower Review – Is It Any Good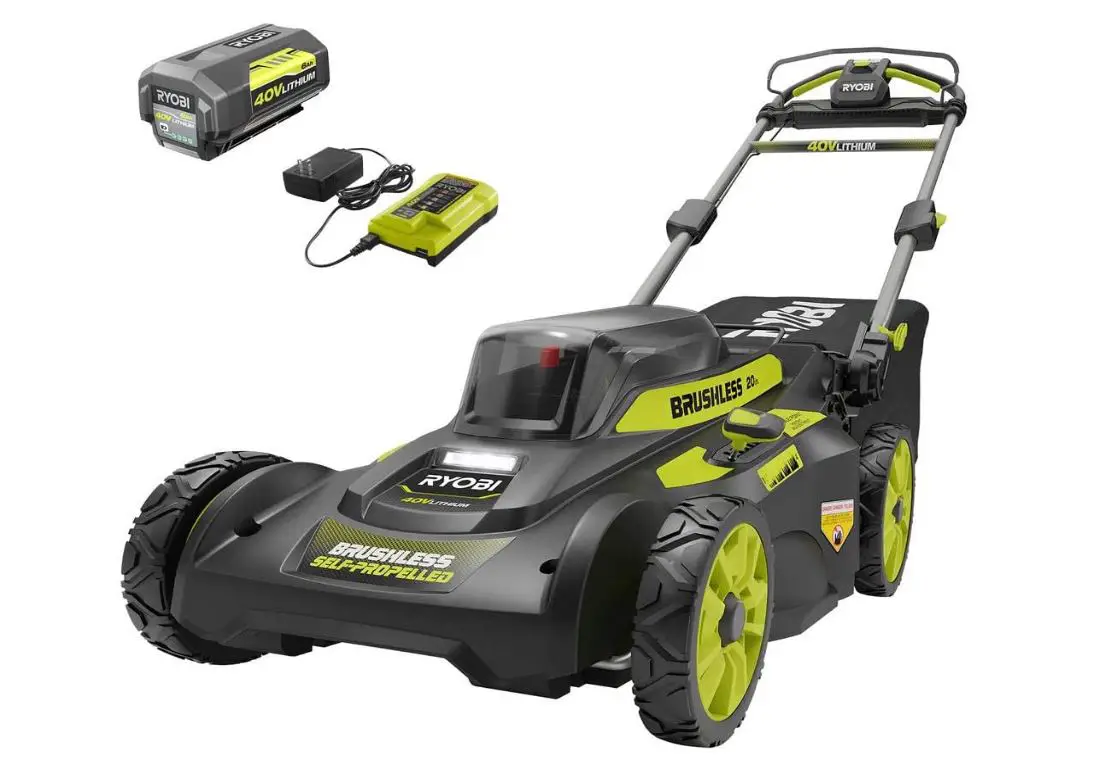 Going green is popular these days and why not do it when it comes to your garden?
It can still be easy thanks to efficient machines like the RYOBI 20" 40V cordless self-propelled mower.
Enjoy having a smaller carbon footprint compared to running a fuel powered machine. And it has many extras that homeowners and gardeners love.
First Impressions
It's a welcome sight to see a quality, efficient mower that's also compact once collapsed, so you can store it away easily.
When in action, it cuts well thanks to quality components as well as smart design including different speed and height settings.
And RYOBI's powerful 6.0 Ah batteries along with a brushless motor are quite impressive.
Key Features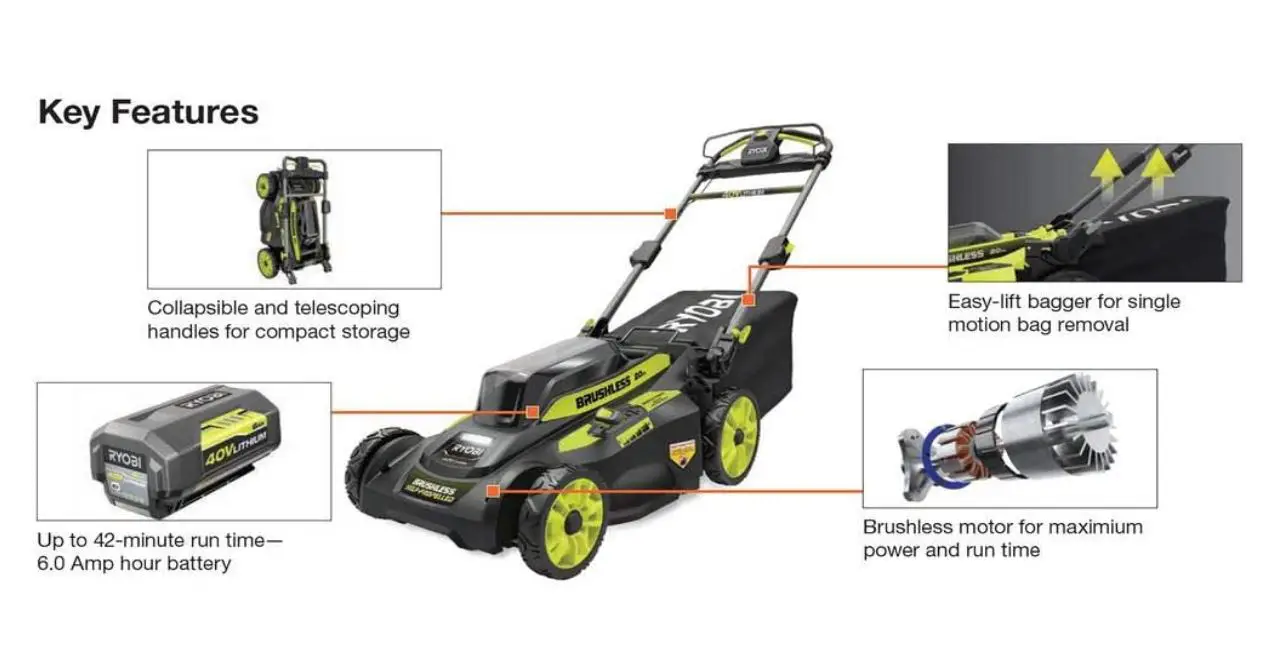 How Does It Perform?
The RYOBI 20" 40V cordless mower impresses in terms of power and battery life.
It can handle the average grass cutting very well, but don't leave too long between cuts, or the battery will deplete much quicker.
Also, if the grass is wet, expect some of it to cling to the underside, since there's no side discharge—usually helpful with moist grass, but not standard issue with this model.
How Long Does The Battery Last?
Thanks to it being a brushless motor machine, you can get over 40 minutes of runtime on a single battery charge.
However, it does despend on the conditions. If the mower requires more power to push through longer, thicker grass or wet grass, you'll have much less time. This is where a backup battery comes in handy.
How Can You Replace The Battery?
Here's one of the most practical aspects of this mower! There's a storage space onboard the mower to keep your spare battery.
If necessary, exchange the battery mid-cut, without wasting time going back and forth between the garage and mower.
The brand added a helpful LED power bar, so you can see remaining battery life easily. You can plan ahead so your maintenance time stays organized.
How Loud Is It?
This is one of the quieter mowers on the current market, so much less chance of angering the neighbors because you're working on your garden.
In part, this is because of the brushless motor, along with market leader RYOBI's much-respected engineering and design.
How Heavy is it?
The mower weighs in at 42lb. It's a lightweight mower compared to many others, making it fairly easy to manage.
This also makes it a smart model for anyone looking for a mower that places less strain on the body.
Is it Easy To Manouvre?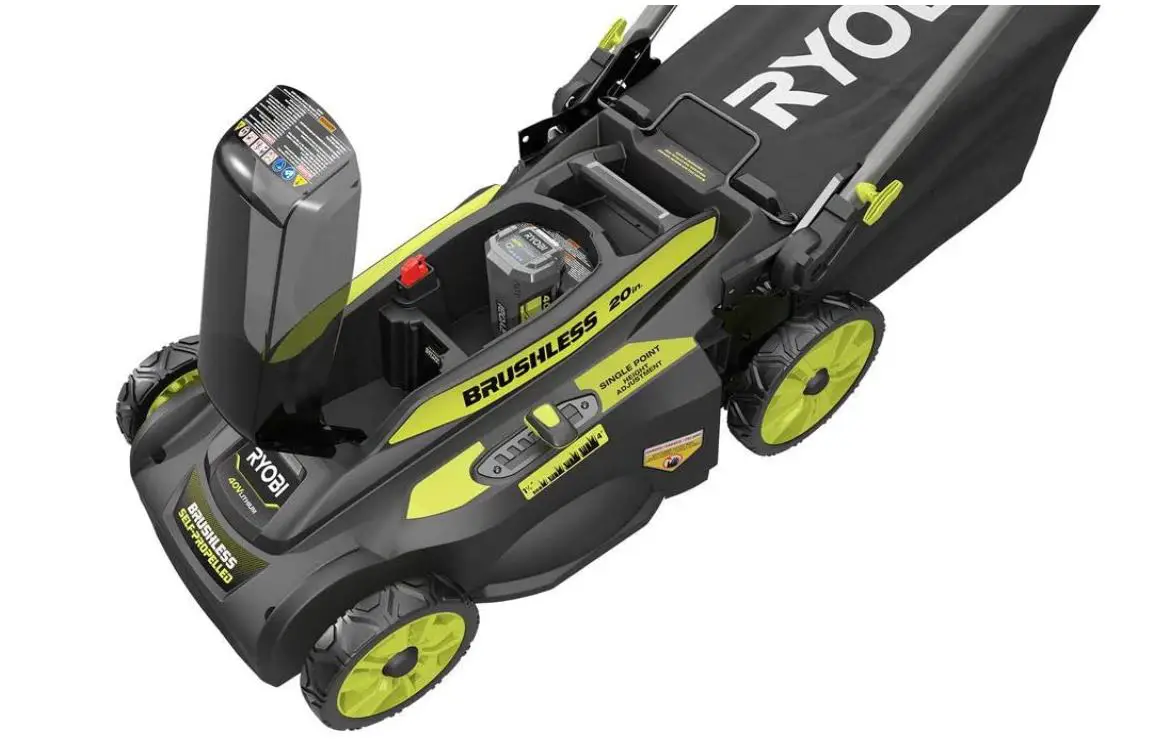 Going forward with this mower is a breeze. Firstly, the self-propelled speed control makes it easy to set a pace that suits you and ensures a good cut.
However, many customers find it difficult making smooth turns. You may have to lift it slightly while you move it into its new position.
You may also find your hand accidentally hitting the speed slider, without intending to. So stay aware of how you move your hands while manuevering.
Apart from that, you'll find the mower has sufficient speed and control for a comfortable grass cutting session. You'll need less exertion than with some other models, thanks to it being self propelled.
The brushless motor is another feature that ensures good power, without draining too much battery life.
How Sharp are The Blades?
The blades aren't the most impressive aspect of the mower. They work fairly decent, but there are mowers that offer a much cleaner cut.
You can set the height, which is a bonus and there won't be lawn lines when you're done. However, some stalks may show signs of being ripped—or chewed—off, rather than neatly sliced.
How Is The Waste Stored?
With this unit you can bag or mulch the cut grass. Unfortunately, there's no side descharge feature, unless you're willing to purchase the accessory at an additional fee.
For best results of cutting wetter grass, side discharging comes in handy.
20 Inch Vs 21 Inch
Ryobi's 21" model is heavier than the 20" option, weighing around 77lb. You can also expect over an hour's runtime, so it's better for larger lots.
Despite it being bigger, it's not very noisy, since it's part of Ryobi's Whisper Series.
Ryobi 40v vs 18v
The mower that's part of Ryobis' 18V range of tools and machines may run flat a little sooner than the 40V model. Still, you'll love it for its low noise levels.
It's only appropriate for areas up to ¼ acre, unless you don't mind charging every now and then. Also note the compact design means the mulch bag fills up very quickly.
But it's so easy to work with such a lightweight unit!
How Long Should It Last Overall – Is It Durable?
Ryobi offers an impressive 5-year warranty on the machine, which gives you an idea of the quality you can expect.
However, the warranty is limited. Even if you're unsatisfied with something during the first 3 months, their 90-day no risk guarantee will come in handy.
In terms of the battery and its charger, here you'll get 3-year cover, so they may need replacement sooner than the mower itself.
Pros
LED headlights for low light conditions
Long warranty period
Telescoping handles
7-point height adjustment
Charger included in purchase
Folds and can stand upright, for easy storage
Cons
Side discharge isn't standard
Turning requires effort
Not always a clean cut
Who Should Buy It?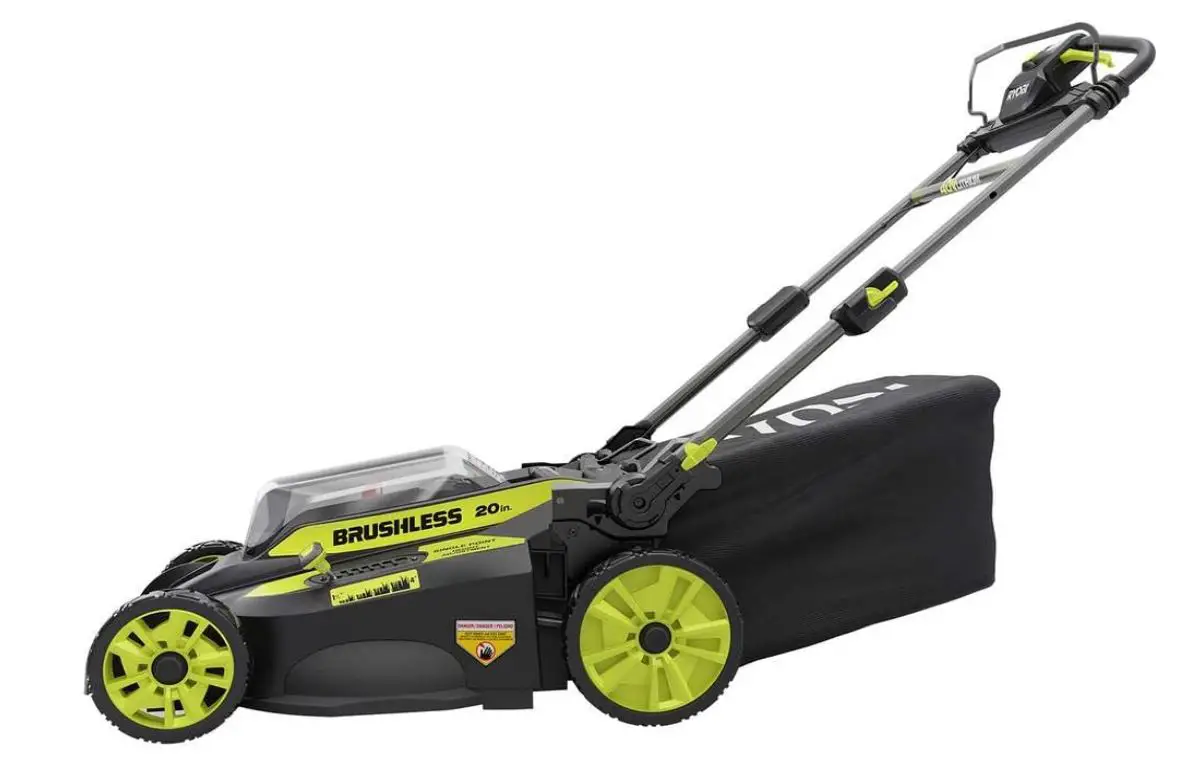 The RYOBI 20" 40V self-propelled lawn mower is the ideal buy if you need to maintain grass areas of ½ acre or less.
If you don't let the grass grow too much between cuts, you'll only need one charge to get it all done.
It's also an excellent option for anyone trying to limit their carbon footprint by going for more eco-friendly appliances.
Overall Score: 90/100
Check Out More Reviews Here:
3 Other Similar Lawnmowers We Like – Mini Reviews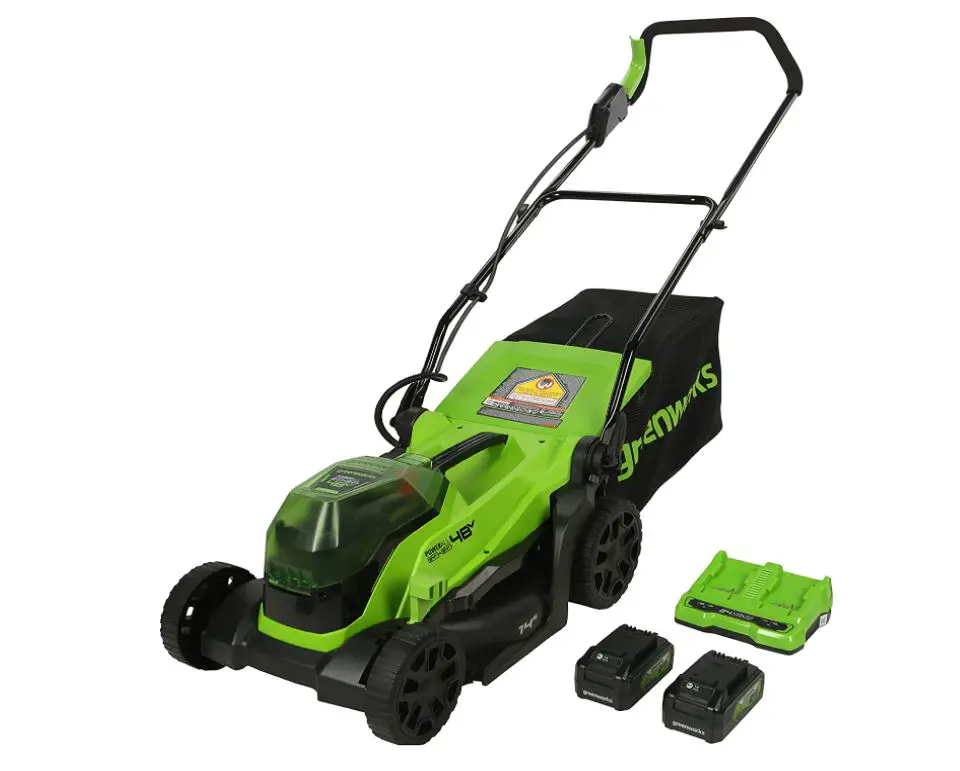 This Greenworks model only clears 14" at a time, but it weighs under 40lb, putting minimal strain on the user.
You may also appreciate the 4Ah battery design enabling you to charge other devices via USB. Though small, it has five height options and a 2-in-1 feature enables you to have mulching and bagging capability at the rear.
This Makita model can help you cut up to 1/3 acre fairly quickly, with just over 40 minutes runtime on its 18V LXT 4.0Ah batteries, if working in the right conditions.
It's designed to run quiet and contains commercial grade steel for durability. A bonus is the backup set of batteries included in most purchases, so you can charge one set while getting on with the job.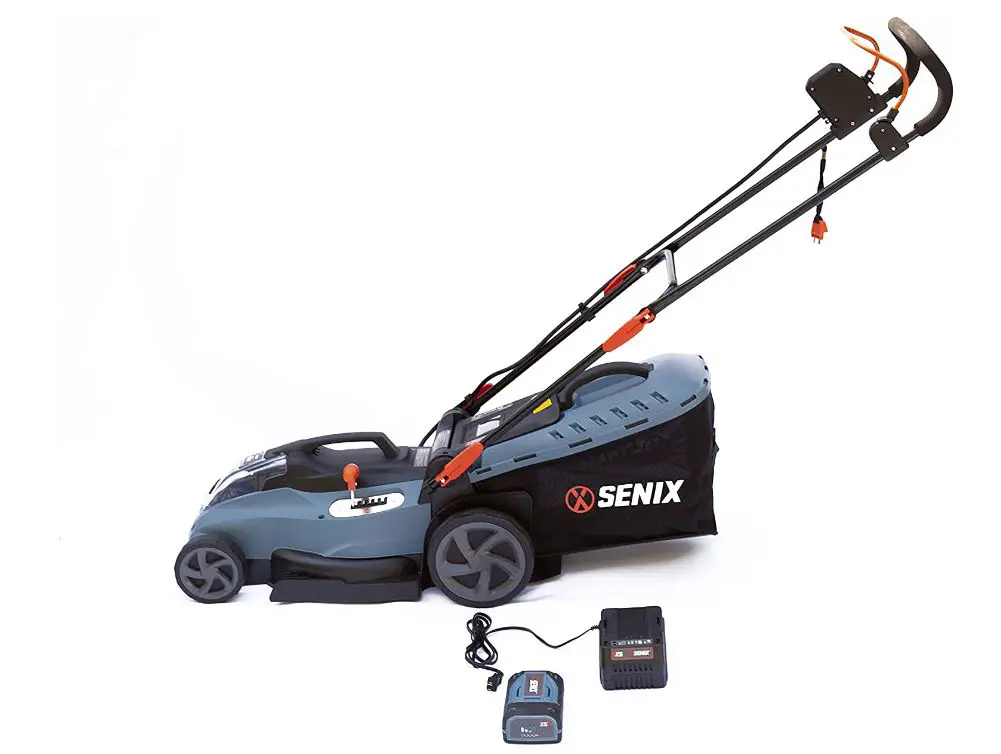 SENIX's cordless mower only weighs 33lb and you'll have a cutting width of 15".
It has safety features llike a key to prevent injuries through accidental starting. It's also easy to find storage space thanks to the foldable handle. The basic design still allows six different height settings.
Overall Conclusion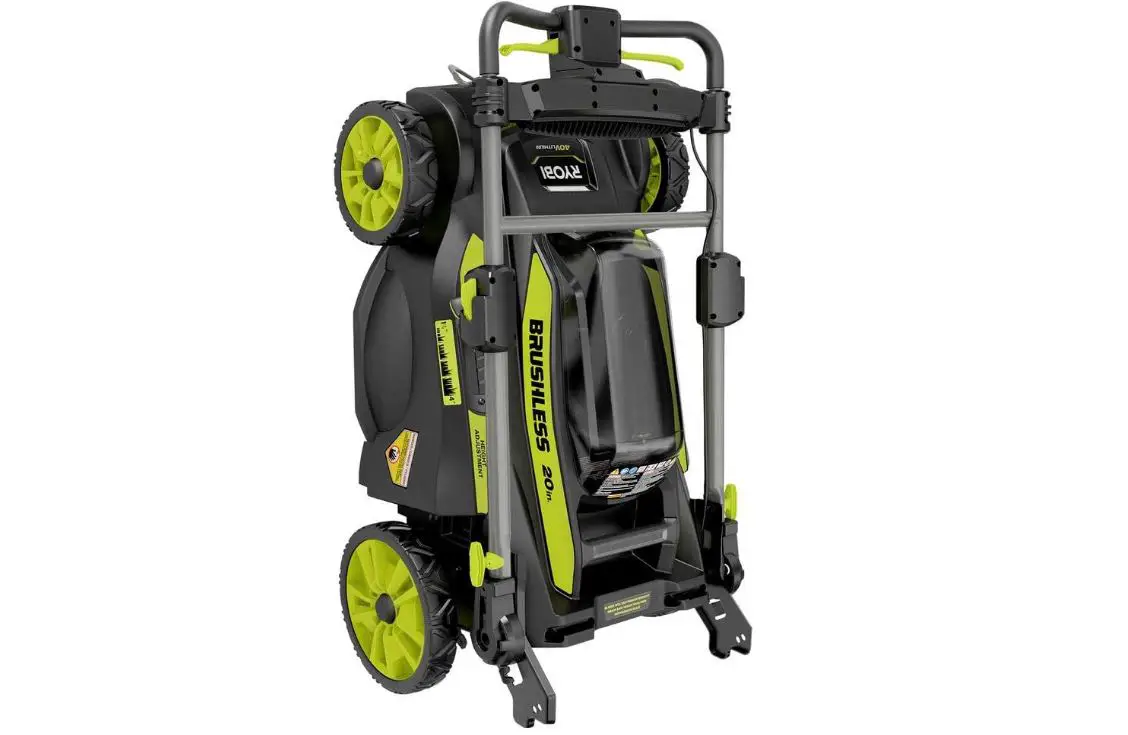 The RYOBI 20" 40V cordless mower with brushless motor is a welcome garden appliance for many homeowners.
It may not offer enough for use in the commercial sector, but for your garden at home, it's efficient and being eco-friendly is a welcome feature.
The drawbacks are minimal and once you get to know your new mower, you can have years of impressive service from it, thanks to buying from a reputable brand that offers high quality components.