Husqvarna 122hd60 vs Stihl hs45 – What's The Better Hedge Trimmer?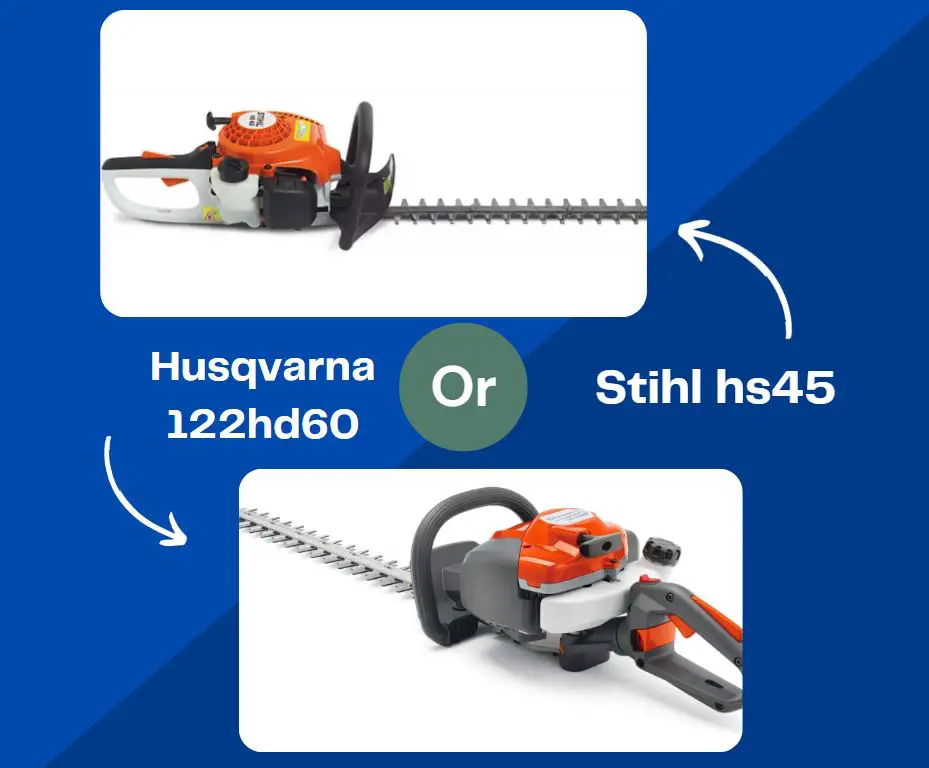 A lot of people don't realize just how much the right hedge trimmer matters.
There are many different kinds of hedge trimmers in different price ranges so many people just make their choice based on budget alone.
However, the wrong hedge trimmer will draw out your trimming chores longer than they need to be.
On the other side of the spectrum, large, overpowered trimmers will wake the neighbors and make you public enemy number one on your block.
There are a lot of considerations you have to make when buying a hedge trimmer but lucky for you, we have neatly outlined all of those considerations and more in the following comparison review.
Husqvarna 122hd60 Vs Stihl HS45 Overview
When all is said and done, what it comes down to between these two hedge trimmers is noise and power output.
But even then there is very little difference. The Husqvarna 122hd60 and the Stihl HS45 are in the same class engine and horsepower wise.
What mattered to us though (and what may end up mattering to many other consumers) are features.
The Husqvarna 122hd60 may end up coming out on top because of its features.
Quick Facts
| | | |
| --- | --- | --- |
| | Husqvarna 122hd60 | Stihl HS45 |
| Blade length | 23.2" | 18" |
| Engine | 0.8 HP | 1.01 HP |
| Beats Per Minute | 4050 | 3800 |
Key Differences Between the Husqvarna 122hd60 and the Stihl HS45
Both the Husqvarna 122hd60 and the Stihl HS45 are gas-powered hedge trimmers.
But as you can see from the chart above, the Stihl model is slightly more powerful in terms of engine power.
That doesn't stop the Husqvarna 122hd60 from having a faster BPM rating though.
After we tested these trimmers, we concluded that in terms of power and cutting capability, they are almost identical.
They both bear double-sided blades even. However, a key difference is blade length. The Husqvarna 122hd60 gave us better reach with its blade that was 5 inches longer than the HS45.
And with the adjustable length handle of the Husqvarna 122hd60 we also found that it gave us more reach.
Husqvarna 122hd60 Key Features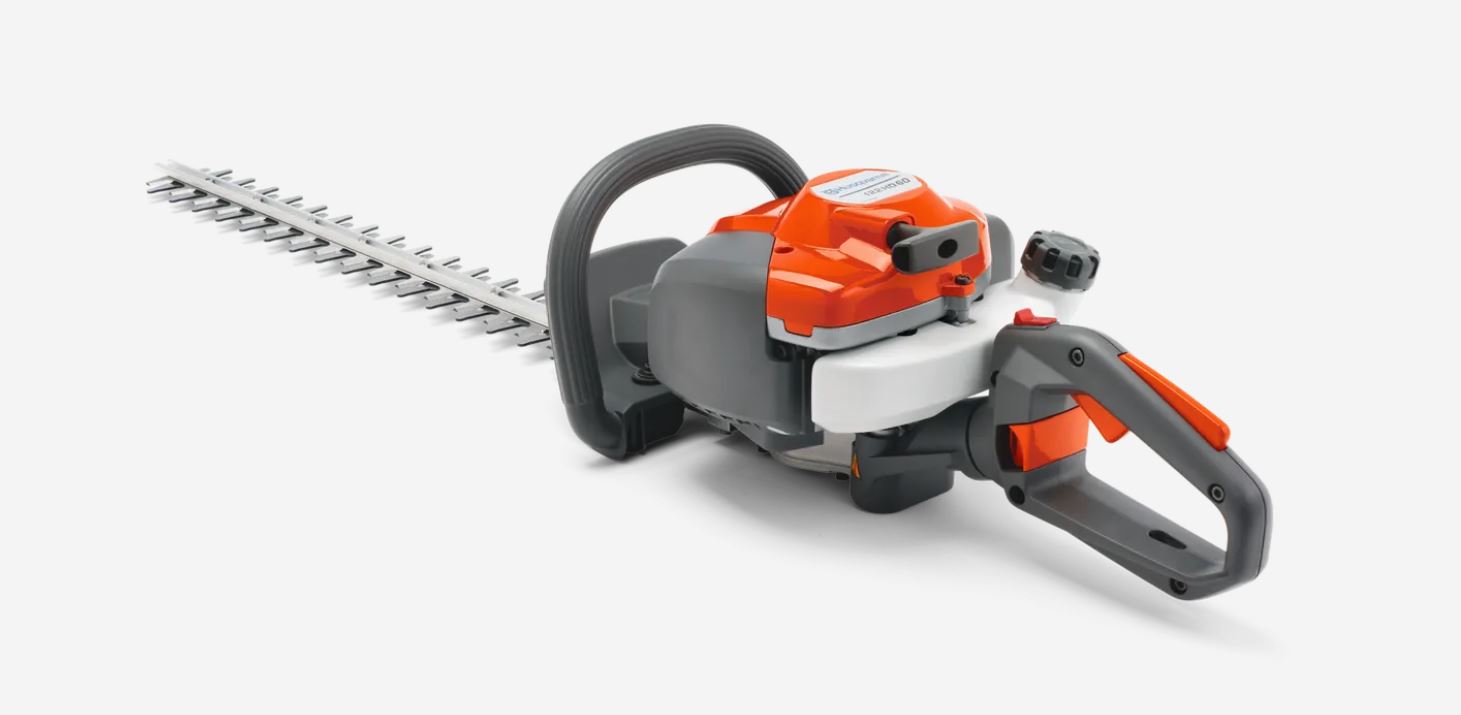 Air Purge Button – With this feature, you can very easily remove air from the carburetor for an easier start.
Adjustable Handle – The adjustable handle provides more reach and better angles for cutting the sides of hedges.
Smart Start – The starter was designed for supreme reliability and indeed, the Husqvarna 122hd60 starts up very easily.
23" Cutting Bar – The long cutting bar gives you plenty of reach and it is even handy for trimming small tree branches.
Husqvarna 122hd60 Pros & Cons
Pros:
Easy to get clean cuts
Easy to move from hedge to hedge
Starts up easily
Provides great reach
Useful for light tree trimming
Cons:
Coil issues
Poor customer service
Overall Score: 96/100
Check Out More Reviews Here:
Stihl HS45 Key Features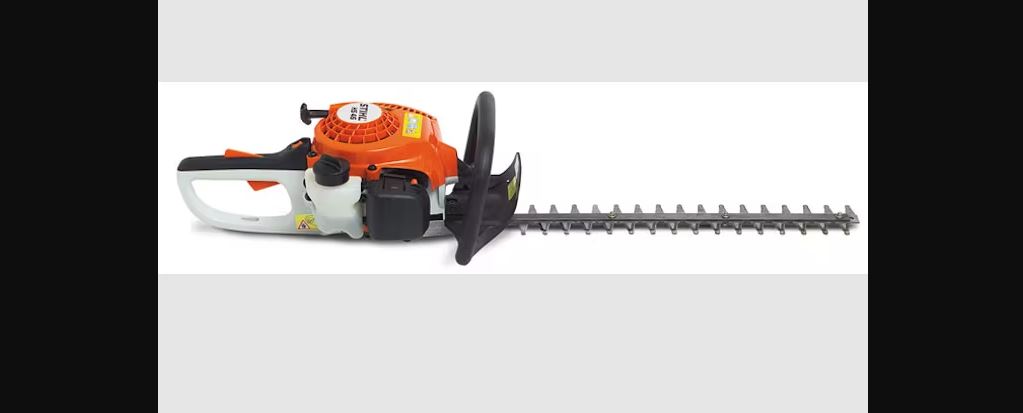 Double-Sided Blade – The double-sided blade design is convenient for when you need to change directions.
Anti-Vibration System – Like many Stihl outdoor tools, the HS45 is equipped with low-vibration technology.
Large Handles – The large front and rear handles give you a bit more reach and make this trimmer more manageable.
01 HP Engine – The Husqvarna 122hd60 bears a 1.01 HP engine with a fuel tank that can hold 7.8 ounces of gas.
Stihl HS45 Pros & Cons
Pros:
More powerful engine
Weighs only 10.4 lbs (dry)
Doesn't vibrate much
Perfect for home use
Cuts very well
Cons:
Hard to start
Smaller blade
Overall Score: 94/100
Check Out More Reviews Here:
Who Should Buy Each One?
Based on our testing, we actually think the Husqvarna 122hd60 could work for commercial applications.
It held up no matter how far we tried to push it. While branch and twig diameter cutting power maxed out at about 1.2 inches, it was still very impressive overall.
The Stihl HS45 would be better for residential use. It probably can be used for light commercial work; but where it really shines is around the house.
Price Comparison
The Husqvarna 122hd60 sells for $370 from the official Husqvarna website and the Stihl HS45 will cost you about $300.
Weight & Handling Comparison
The Stihl HS45 weighs 10.4lbs while the Husqvarna 122hd60 weighs 10.8 pounds.
Despite the tiny bit of extra weight, the adjustable handle made the Husqvarna 122hd60 easier to wield in tight cutting situations.
Power Comparison
The Husqvarna 122hd60 sports a 0.8 HP engine while the Stihl HS45 is outfitted with a slightly more powerful 1.01 HP engine.
Blade and Chain Comparison
The Husqvarna 122hd60 has a longer 23" blade compared to the 18" blade of the HS45.
The tooth distance on the Husqvarna 122hd60 is 1.1" compared to the 1.18" tooth distance of the HS45.
Efficiency
Both of these machines were pretty efficient with fuel.
The Husqvarna 122hd60 has a fuel consumption rate of 0.73lbs per hour with a max fuel capacity of 10.1 ounces. THe Stihl HS45 has a 7.8 ounce fuel tank.
Durability Comparison
The Husqvarna 122hd60 seemed very durable and capable. The Stihl HS45 also seemed durable; but we had some issues starting it.
Other Hedge Trimmers to Consider
EGO Power+ HT2411 24-Inch Brushless 56-Volt Cordless Hedge Trimmer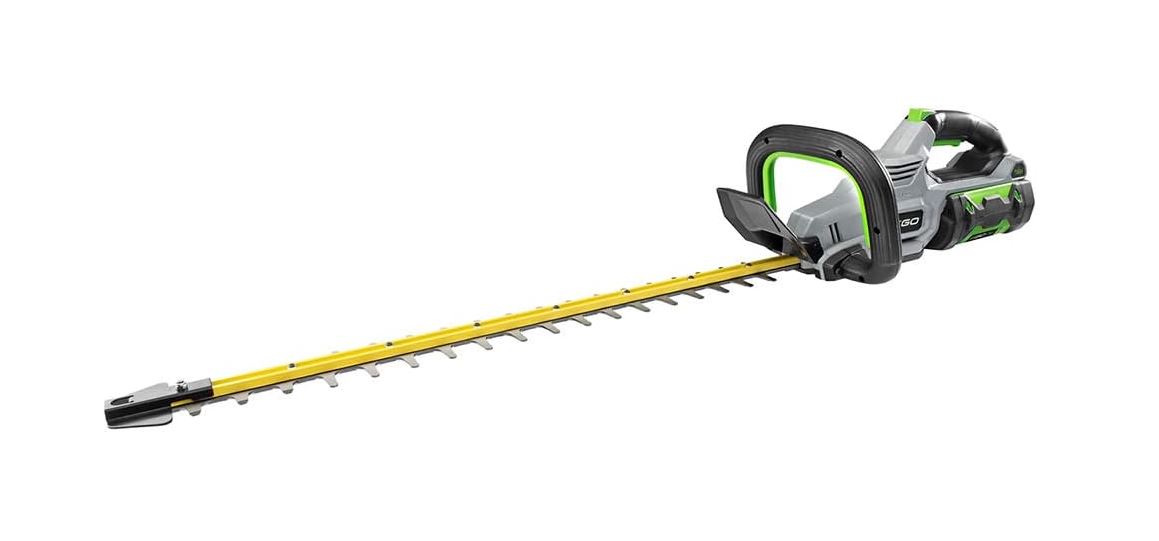 If you are looking for an electric hedge trimmer, this one would be a good choice.
It features a 24" double-sided reciprocating blade that is perfect for tall hedges and even light tree trimming. OUr only gripe was that the teeth are far apart so it doesn't make fine cuts to smaller twigs.
Overall Score: 94/100
Check Out More Reviews Here:
Toro 51490 Corded 22-Inch Hedge Trimmer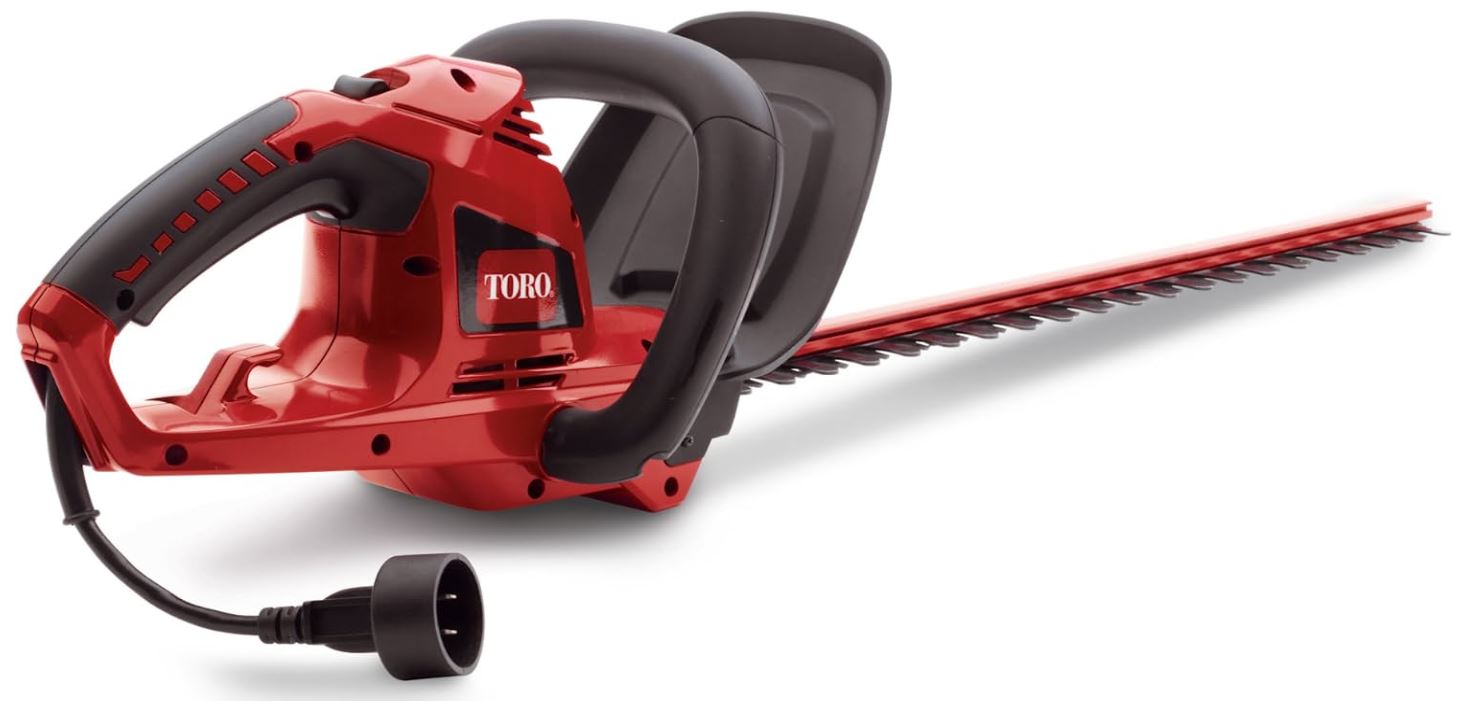 As the name implies, this is an electric, corded hedge trimmer so your range will be limited to the length of extension cord you have.
However, the Toro 51490 Corded 22-Inch Hedge Trimmer is very light at just 6.3 pounds.
It's also very comfortable to operate although it struggles with branches and twigs bigger than an inch in diameter.
Still, you don't have to deal with filling it up with gas or any emissions.
Overall Score: 94/100
Check Out More Reviews Here:
BLACK+DECKER Electric Hedge Trimmer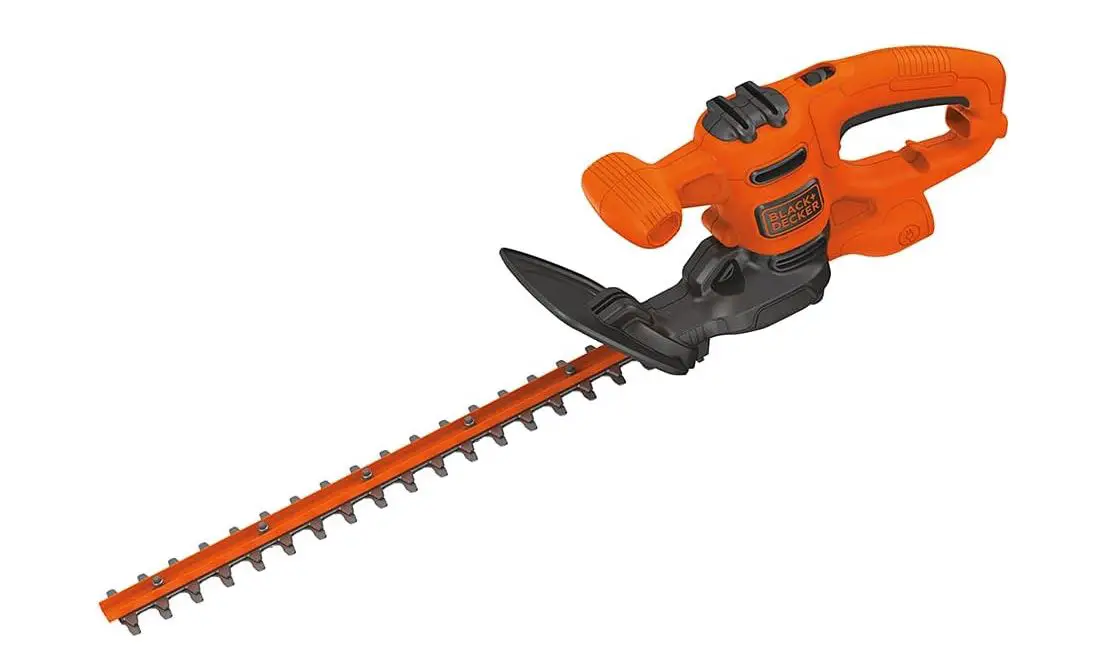 The BLACK+DECKER Electric Hedge Trimmer has a double-sided, 17 inch blade.
One thing we liked about this trimmer was that even though it is a corded trimmer, the cord retention feature makes it so the power plug doesn't come flying out when the cord gets snagged on something.
The T-shaped front handle is comfortable; but we wish it was wider.
While this won't be the trimmer you use for large projects, it is still a solid choice for small hedges and most residential applications.
Check Out More Reviews Here:
Final Assessment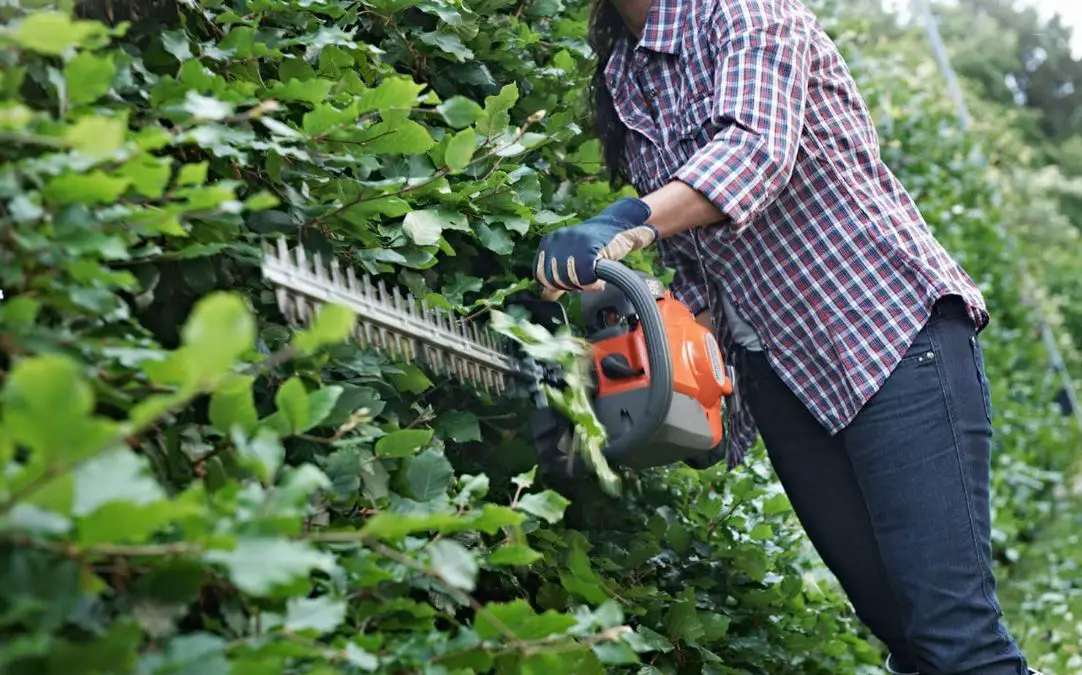 The only reservation we have about the Husqvarna 122hd60 is that customers have complained about coil issues after only a couple of years of operation.
Otherwise, we have no qualms hailing it as the superior hedge trimmer.
The Husqvarna 122hd60 is easier to start up, you get better reach and it is at least as powerful as the Stihl HS45. The Stihl HS45 was very reliable – once you got it started up.
It makes clean cuts but some of us struggled to get it started which hurt its overall performance in our opinion. So for this comparison, we recommend the Husqvarna 122hd60.