Stihl FS 240 Trimmer Review – Is It Any Good?
Stihl claims that this bike-handle trimmer is ideal for tackling challenging cutting locations. Stihl also claims that this model is able to take care of anything from highway exits to low-lying ditches.
This review was curious as to whether Stihl was honest about their convictions about the inner workings of this particular brush cutter.
Complete Overview
The STIHL FS 240 is not defined as a heavy-duty 2-stroke engine, professional trimmer for nothing. In the view of this review, it's a brush cutter that successfully combines a versatility with a ruggedness needed to take care of more challenging cutting tasks.
We wanted to see if it could indeed live up to these claims, and if the overall design is as user-friendly as they make it out to be from advertisements.
Stihl FS 240 First Impressions
At first glance, this brush cutter features a rugged design, giving the impression that it's made for more advanced horticultural jobs. Looking the part and feeling professional in hand, first impressions are made to last with the Stihl FS 240.
Specs
| | |
| --- | --- |
| Power Source | Gas/Petrol |
| Weight | 15.2 lbs. |
| Cutting Width | 16.5 in. |
| Total Engine Power | 2.3 bhp |
| Fuel capacity | 25.4 oz. |
| Displacement | 37.7 cc |
Stihl FS 240 Key Features
STIHL ErgoStart (FT)

STIHL ErgoStart technology conveniently minimized the effort required to start the tool. We managed to get the machine started by a simple pull of the started cord at normal force.
IntelliCarb™ Compensating Carburetor
This intelligent Carburetor automatically measures and adjusts the air pressure, which helps to keep the RPM at a consistent level regardless of any blockages.
How Does It Perform?
In our experience, the FS 240 is an excellent tool and packs a punch of power when it comes to performance.
In combining a heavy-duty design with the necessary versatility, we were able to handle a variety of challenging landscaping/clearing situations.
Because this machine provides 6% more power and 20% more fuel efficiency, we were able to spend more time cutting instead of refueling.
How Loud Is It?
As with any heavy-duty trimmer, you'd definitely want to wear earplugs to block most of the decibels radiating from this powerful brush cutter. Sounds specs were collected below:
| | |
| --- | --- |
| Sound pressure level with plastic tool 2) | 97 dB(A) |
| Sound pressure level with metal tool 2) | 98 dB(A) |
| Sound power level with metal tool 2) | 109 dB(A) |
| Sound power level 2) | 110 dB(A) |
How Heavy Is It?
This brush cutter weighs in at a reasonable 6,9 kgs or 15, 2 pounds, making for fairly comfortable work – especially combined with the additional harness.
Is It Easy To Handle & Perform?
With the bike-handle design and attaching harnesses, this brush cutter is easy to handle and use for the purposes intended.
What's the Blade Like?
Various blades can be used in conjunction with this machine. The Wood Cut Circular saw blade, for example, is a special steel tool that is effectively used for gnarled bushes and tree trunks that aren't too thick.
Another one of our favorite blades was the Brush blade. Made of special steel, we found this blade to be ideal for clearing tough patched of grass and challenging hedges.
How Is The Power Source / Engine?
With Stihl's special Ergo Start technology, the effort required to start the tool is halved, with the starter cord being easy to pull. With that said, this cutter requires a mixture of 2 stroke oil and petrol at a 50:1 ratio.
What Attachments Are Available With It?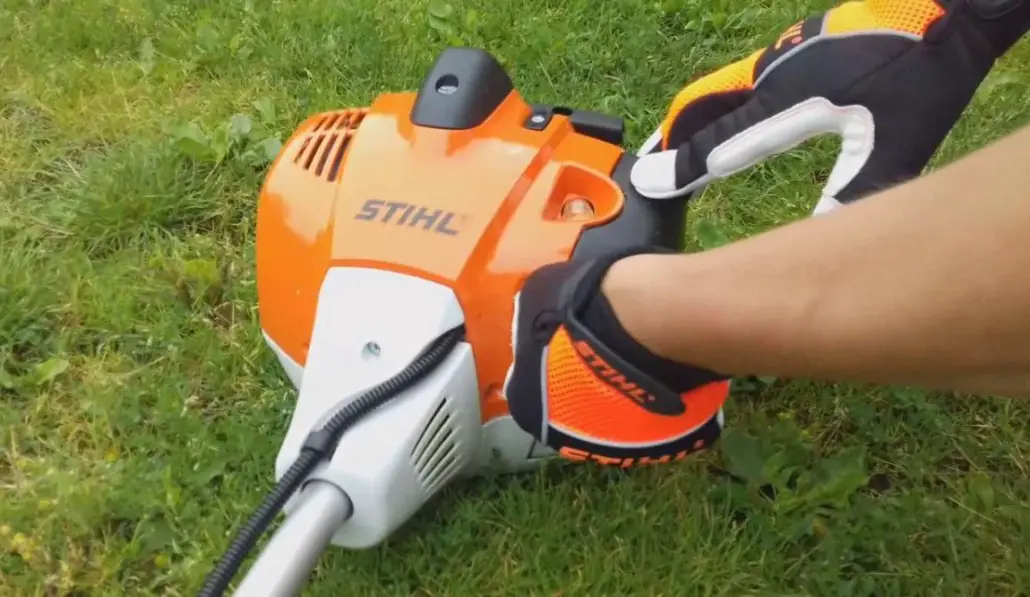 ADVANCE Universal Harness

The soft padding on this harness definitely makes work more comfortable.
STIHL shoulder strap
The STIHL shoulder strap with soft padding makes work much more comfortable.
ADVANCE forestry harness

The advance forestry harness from Stihl offers extra freedom of movement. The ergonomic design for forestry applications involving circular saw blades is light and comfortably worn.
What Size Job Does It Suit?
The STIHL FS240 brush cutter is generally designed for agricultural and horticultural work that requires more attentive cutting.
How Efficient Is It?
In the light of its fair fuel consumption, this machine is most efficient with bigger jobs that need the power without the vibration and overt fuel consumption.
How Durable Is It?
There's no doubt in our minds about the durability of this machine. We were convinced that this machine would be able to withstand the tests of time and obstacles.
Pros
It's easy to use.
Easy to maintain.
It's 100% reliable.
Cons
According to some, it might be loud
It might be slightly on the heavier side.
Common Problems With The Stihl FS 240
In case the engine stalls, try remove and cleaning the inlet needle or clean the carburetor for best results.
The cutting attachment may rotate at idle speed. In that case, it could work to replace tension springs and replace the clutch if necessary.
Who Should Buy It?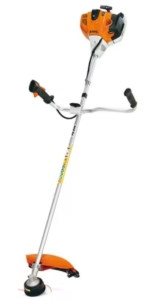 The Stihl FS 240 is recommended for anyone wanting to do agricultural and horticultural mowing work. Of course, safety should always come first when using any brush cutter with this kind of power, so it's not recommended for beginners.
Overall Score: 92/100
Check Out More Reviews Here:
Other Hedge Trimmers To Consider
Black & Decker Electric Hedge Trimmer, 17-Inch (BEHT150)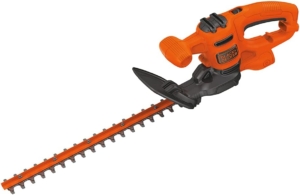 This 17-inch electric edge trimmer from Black & Decker worked great for small hedges, shrubs, and bushes. We also found it to be lightweight and easy to handle.
Check Out More Reviews Here:
Dewalt DCHT820B Hedge Trimmer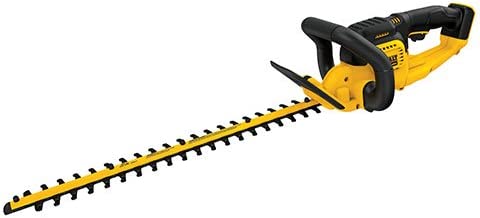 This 22-inch Battery Hedge Trimmer from Dewalt features a high-output motor and laser cut tooth blades. We found this combination to be ideal for clean, fast cuts on thin branches.
Check Out More Reviews Here:
Overall Conclusion
The FS 240 is powerful, robust, durable and meant for hardcore agricultural clearing tasks. If your purposes should meet this description, the FS 240 brush cutter from Stihl comes highly recommended.
Which One Do We Recommend Buying Overall?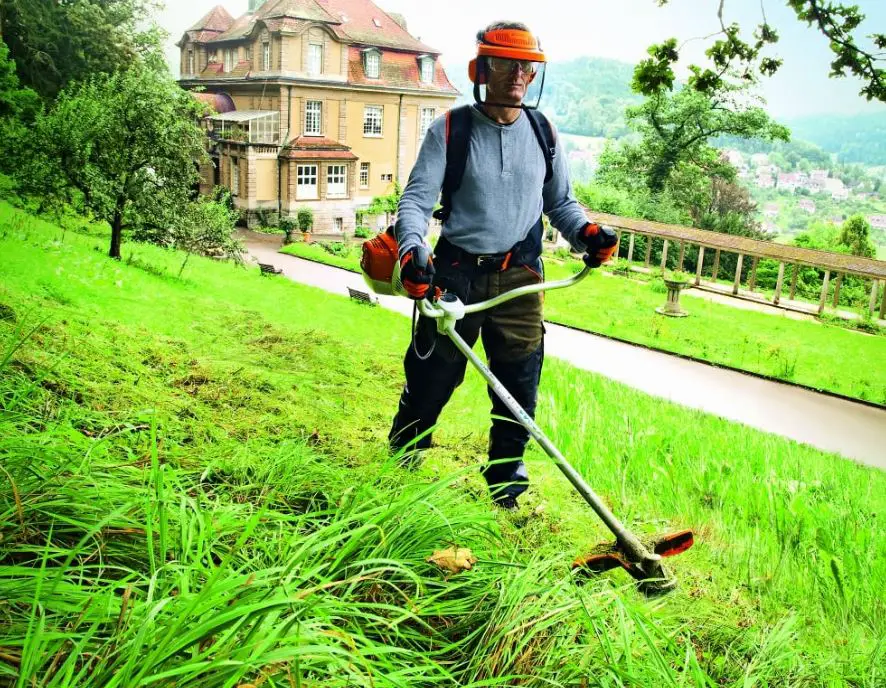 In this category of brush cutters aka heavy-duty trimmers, we remain the most prone to using the Stihl FS 240 for its excellence in versatility, efficiency and power in taking care of heavy-duty clearing work.