Stihl FS 38 Petrol Trimmer Review – Is It Value for Money?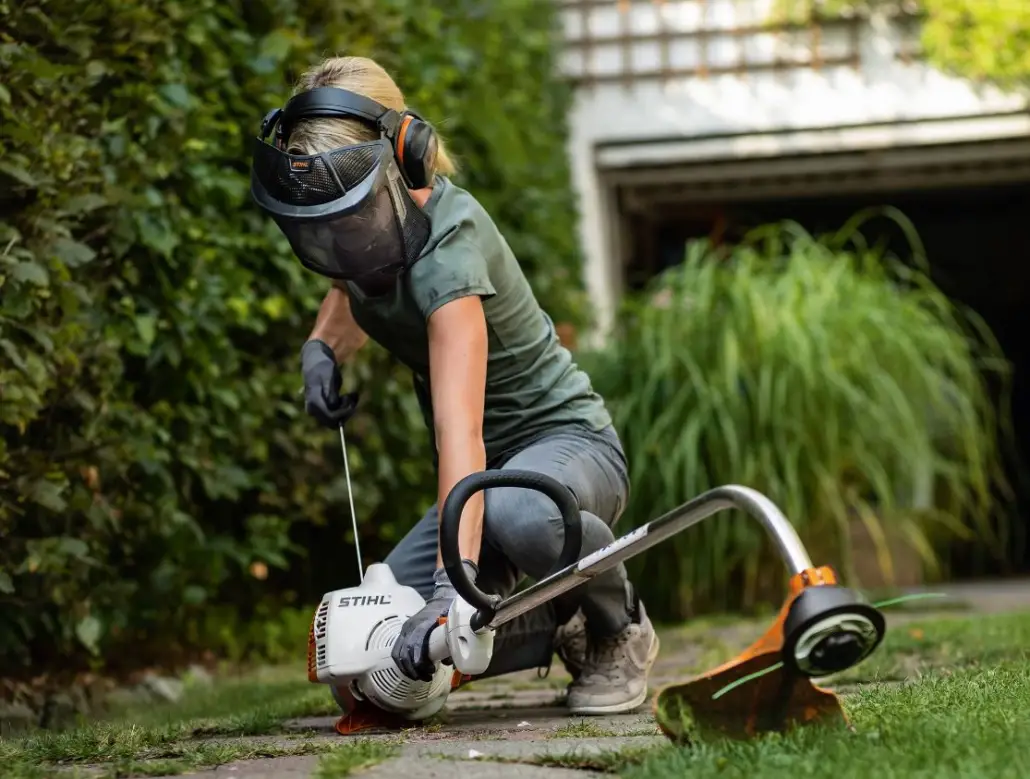 The Stihl FS 38 Grass Trimmer or "strimmer", is defined by the Stihl company themselves as the lightest strimmer in the entire STIHL range.
Claiming that it's perfect for trimming grass along walls, under trees or lawn borders, it seems like a good option for taking care of gardening finishing touches.
Stihl FS 38 Overview
The Stihl FS 38 petrol trimmer is recognized as the lightest in the entire Stihl range of strimmers.
Essentially ideal for taking care of the finishing touches in and around a garden or lawn, this grass trimmer had to be put to the test by our experts in order to ascertain its overall efficacy and power.
Stihl FS 38 First Impressions
Upon first glance and use of this strimmer, we found it to be particularly light in hand and easy to handle.
When first laying eyes and hands on this trimmer, it certainly seems like a high-quality tool at an affordable price that is designed with the user in mind.
Stihl FS 38 Specs
| | |
| --- | --- |
| Engine Total Displacement (cc): | 27.2 |
| Engine Power (kW): | 0.65 |
| Weight (kg): | 4.1 |
| Engine Type: | 2-Stroke |
| Total length of cutting tool (cm): | 147 |
| Tank Volume (l) | 0.33 |
| Standard Cutting Head: | Auto Cut C 6-2 |
| Standard Mowing Line Diameter (mm): | Nylon Line 2 (mm) |
| Handle Type: | Loop Handle for Comfort |
| Power Source: | Petrol |
Stihl FS 38 Key Features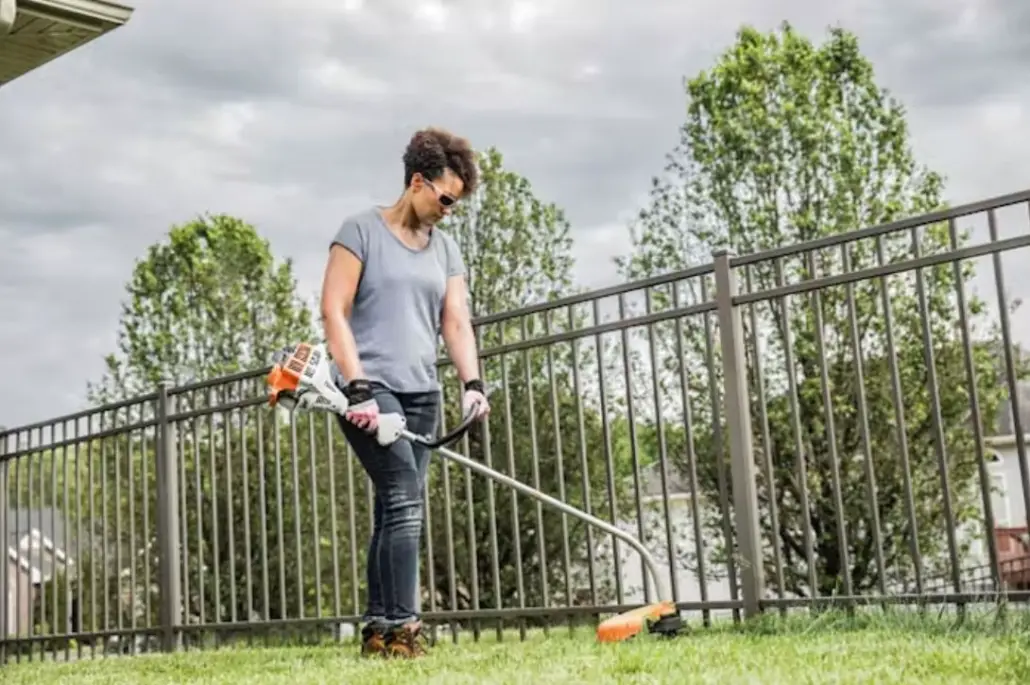 Electronic ignition module
The nifty electronic ignition module ensures trouble-free starting of the Stihl FS 38. Because this module is covered, it's automatically protected against the elements.
Manual fuel pump
The manual small fuel pump effectively delivers fuel to the carburetor. All we needed to do to get it running is push the appropriate button. We also found that this reduces the number of strokes required to start the strimmer.
Multi-function Controlling Handle
Comfortable thumb-operated control enabled us to operate the machine without ever taking our hands of the handle. This undoubtedly creates a feeling of control and confidence in trimming.
How Does It Perform?
With a particularly light design, the power output should not be underestimated. With high cutting speeds and 380mm cutting width, this strimmer allowed us to do trimming tasks with ease and confidence.
How Loud Is It?
This strimmer is just as light on the ears as it is to handle. With a reasonable noise level, average homeowners who tackle small jobs in less than an hour wouldn't even have to wear earplugs.
However, depending on how sensitive you are to sound, we would conclude that remains up to you whether you choose to wear protective gear.
How Heavy is It?
The Stihl FS 38 weighs in at a mere 4,1 kgs – the lightest in the Stihl strimmer range yet that we have tested.
It is easy to Handle?
This trimmer features a unique user-friendly loop handle that is fully adjustable to suit the user.
Combined with optimized balance and low vibration, the FS 38 offers good maneuverability arounds small-medium sized obstacles.
What's The Cutting Head Like?
The Stihl FS38 strimmer comes with a standard Auto Cut head, and can also fit a Poly Cut head for getting rid of larger weeds.
How Is The Power Source / Engine?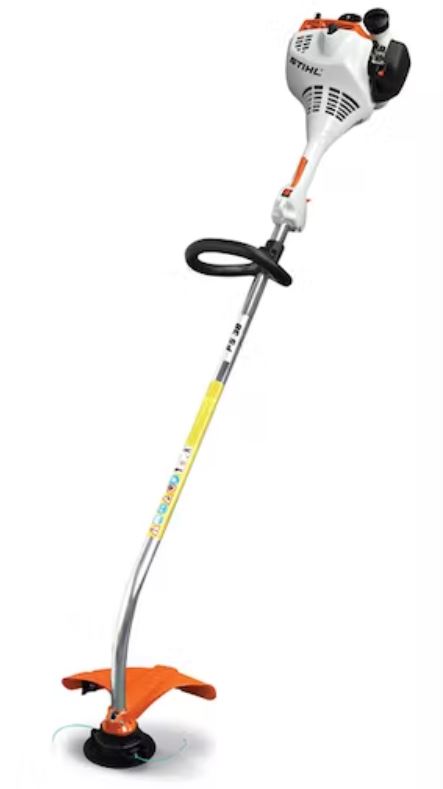 Surprisingly, the Stihl FS38 strimmer has shown to start easier than similar models. All we needed to do was to press the start button and pull the started cord.
The small but powerful 27.2 cc engine will keep powering on for the tasks at hand.
What Size Job Is It Best Suited to?
With a strimming width of 380mm, it makes the FS 38 for tight area and trimming edges, below low tree lines and clearing weeds on the sides of walls.
We also tried to clear some crowded shrubbery with it with relative success.
How Efficient is It?
For best results in efficacy, it's highly recommended to use a mixture of 1:50 of engine oil to petrol to fill up this strimmer's tank.
Regarding the brand of oil, we found the Stihl HP Ultra Two Stroke Engine Oil to accompany the machine in the best manner.
How Durable Is It?
In terms of durability, the Stihl FS 38 gives one the impression that it's able to withstand occasional knocks and last the owner around 10 years.
Pros
The loop handle grip makes it easy to handle.
This trimmer is lightweight at just 4.2 kilograms.
This trimmer is ideal for small, compact spaces
It comes with a 2-year domestic warranty.
Cons
The line feed mechanism has some occasional trouble with feeding the line. Please read more on this issue below.
Common Problems With The Stihl FS 38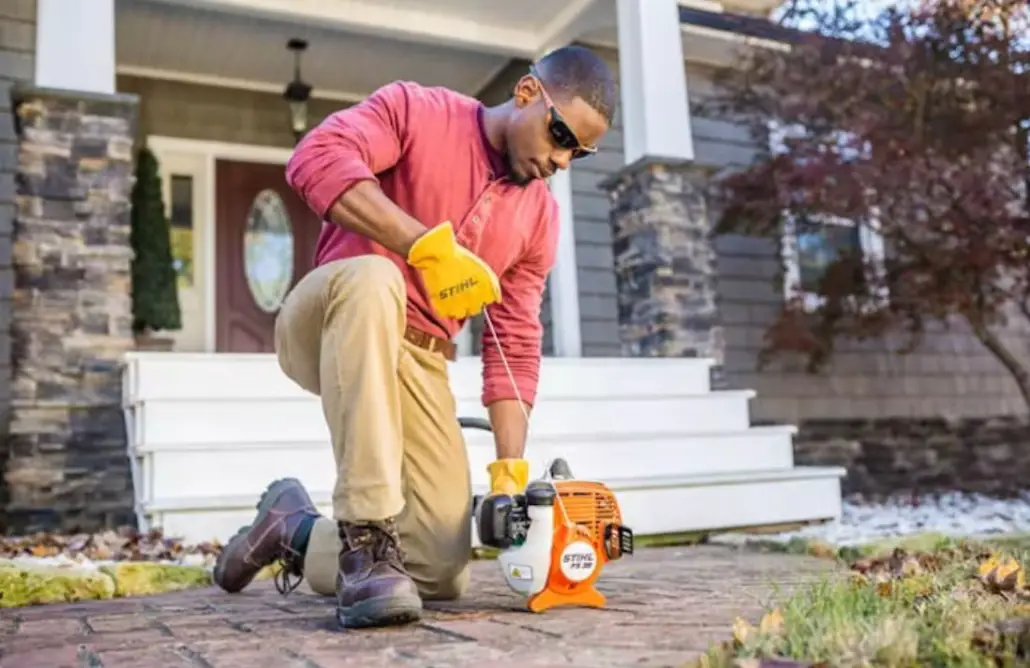 Poor line feed mechanism
Unfortunately, some critique is due regarding the line feed mechanism of this model. Like many other users we know, we had some issues with replacing the line and getting it to feed properly on a consistent basis.
Carburetor problems
Seeing that the carburetor is not compatible with modern gasoline, it's an absolute necessity to use premium gasoline to be able to use this trimmer.
Who Should Buy It?
This trimmer is best suited to those seeking an entry level string trimmer with quality features. Ideal for the homeowner, the FS 38 will keep non-professional trimmers satisfied.
Overall Score: 80/100
Check Out More Reviews Here:
Other Petrol Trimmers To Consider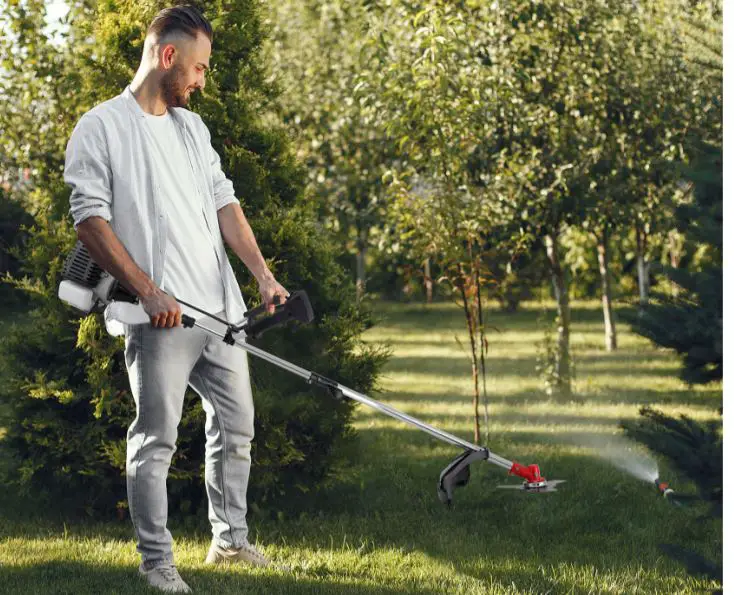 Ryobi 30 cc 2-Stroke Petrol Line Trimmer
We discovered that the Ryobi Line Trimmer is very effective for residential cutting purposes. Our only issue with this model, was the quality of the line.
Otherwise, this trimmer was good at trimming the edges of lawns and clearing along pathways.
Casals Brush Cutter Petrol Aluminium Red 230mm 52CC
On the heavier side as compared to other models discussed in this review, the Casals Petrol-brush Cutter is ideal for heavier tasks around the garden.
We would recommend this model to both homeowners and professionals looking to do heavier work.
Our Final assessment on the Stihl FS 38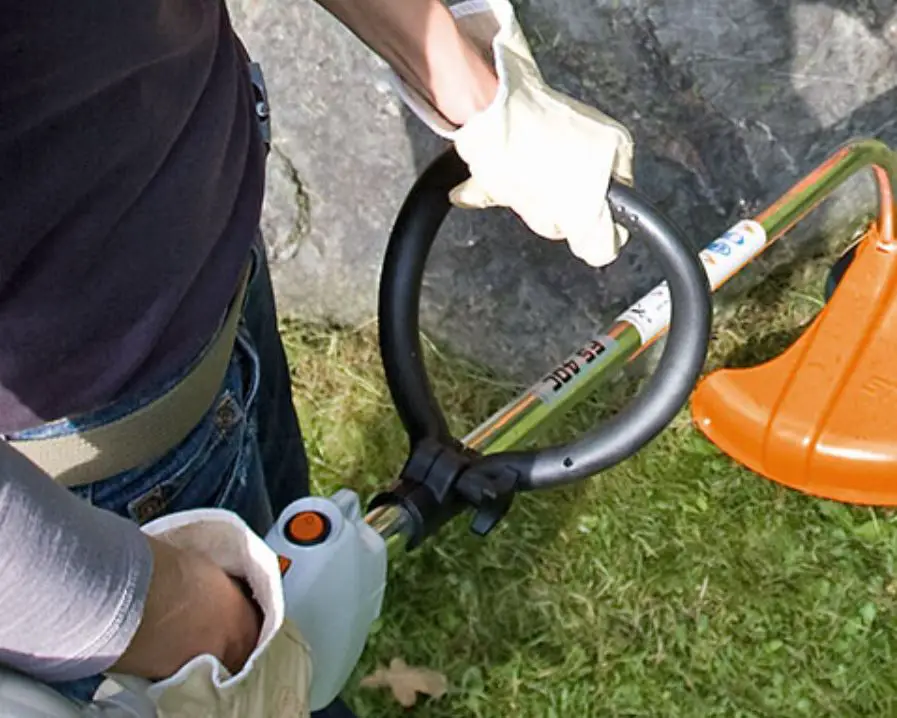 In our final conclusion, the Stihl FS 38 is a fair choice for homeowners wanting to maintain their small to medium-sized gardens.
Although we encountered occasional hick-ups with the line feed, the Stihl FS 38 remains a good choice for making light work of general garden cutting maintenance.